Do you Believe in Angels,
Spirit Guides, Soul Travel,
Soul Mates, Remote Viewing?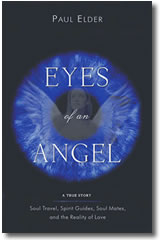 Paul Elder didn't! At least not until he had three Near-Death Experiences. Then, a psychic doorway opened and his life has never been the same.
In an amazing, true story, Elder reveals how he passed repeatedly through that psychic doorway, returning with a series of stunning revelations as to our true nature and purpose in the universe.
A compelling, inspiring, and important book, Eyes of an Angel integrates near-death and out-of-body experiences in a way that has never been done before. A story of hope and courage that can instantly change millions of lives, it will give readers of books like Conversations With God inspiration to create their own dialogue with their own spirit guides and God.
Unlike any other book on the market, Eyes of an Angel offers a gripping, first-hand account of a remarkable spiritual adventure. Its story will keep you spellbound, while its messages resonate deep within your soul.
"If you want to open your own conversation with God, this is a book you should read."
Neale Donald Walsch
Author --- Conversations With God
Get the Flash Player to see this player.